In a click-obsessed world it's not surprising that the archbishop of Canterbury, the Most Rev. Justin Welby, drew some gasping headlines last week.
Welby's comments occurred during a BBC interview in Bristol Diocese in which the reporter asked, "Do you ever doubt?" Welby responded,
"Yes. I do. In lots of different ways, really." After gathering his thoughts, Welby said,
 It is a really good question. … The other day I was praying over something as I was running, and I ended up saying to God, 'Look, this is all very well, but isn't it about time you did something, if you're there?' Which is probably not what the archbishop of Canterbury should say.
But it is what the archbishop should say. I quite appreciated Julia Baird's Op-Ed in the NY Times last week, "Doubt as a Sign of Faith" in which Baird reminds readers of the commonality of doubt in the Christian tradition from the day one.
Sure, there's Job, and the Psalms, and the disciples. But there's also Calvin, and C.S. Lewis, Mother Teresa, and Flannery O'Connor, to name a few.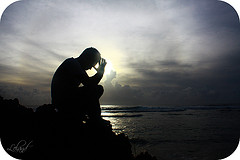 For me, the truly noteworthy story would have had Welby respond, "No, never have I ever doubted." As Baird points out, "the philosopher Bertrand Russell put it best. The whole problem with the world, he wrote, is that 'the stupid are cocksure while the intelligent are full of doubt.'"
For a PhD course on creativity I'm taking, I'm constructing a set of 52 "Spirituality Cards," notecards with spiritual quotes, experiences, and influences on them (my decorating is atrocious, by the way). The description of the project includes filling ten cards with examples of "…a spiritual experience or answered prayer." I filled all ten with spiritual experiences.
The project helped me again realize my reticence to approach faith as something as simple as "Ask a question, get an answer." Prayer is practice, seeking, life-changing, question-asking, but for me rarely about a fill-in-the-blank response from God. For me, speaking of "answered prayer" misses the point.
If we approach faith and religion as only something of intellectual assent, like some ultimate scientific experiment to prove God's good existence now and forever, then it's a shock that a world faith leader would admit doubt. But that's not what faith is about.
And so we need reporters, pastors, believers, and doubters everywhere to lower the heat of the public faith conversation. We need to share these honest age-old truths about faith without worry of the tweets that will follow. Our faith demands it. No doubt about it.
image by Leland Francisco