And we're off! The first-year students are on campus and classes begin Thursday at Concordia College. Following last week's marathon faculty workshops, I'm almost ready for students, but not quite. (Side note: when did syllabi become 15 page documents replete with every college-wide and course policy known to humanity, assignment details ad infinitum, and basic etiquette instructions?)
In a meeting last week my department discussed adding an email Sabbath policy to all our syllabi. Without mandating any specific policies, we affirmed the possibility that each of us enact practices such as:
Not responding to students' emails between Friday evening and Sunday morning
Weekly taking a full 24-hours (or more) away from email
Explicitly claiming periods for faculty rest, worship, and rejuvenation on each syllabus
Generally, I'm supportive of this sort of approach to work, worship, and play. I hope it teaches students that while they are important and valued by every professor at the college, they cannot be the center of our lives at all times. Wise, faithful living requires choices about how we spend our time. The practice of rest is important and, for professors, students' immediate "needs" require prioritization.
(Also, not a small amount of Saturday student emails could be dealt with using an automated response reading: "Thanks for the question: for now, please go back and read the syllabus and assignment sheet carefully and, if those don't answer your question, email me in 24 hours.)
I do plan to pilot a Saturday Email Sabbath practice of some sort for my classes this semester, but doing so begs the question: do I expect my students also to take a day of rest? And, if so, are we as a college in any way supporting such a practice?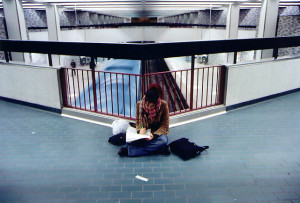 Every time a professor constructs a syllabus she faces real ethical questions of how much reading, how much writing, and how many projects to assign. On the one hand, students absolutely have to delve deeply into the subject and, well, learn. Part of her job as professor is to push students far beyond easy answers. That takes time, energy, and a lot of work.
On the other hand, students are usually enrolled in several other classes taught by professors who have the same aim. If we all assigned 150 pages of reading every class, we'd cover a lot of material but we'd burnout our students who, increasingly, are also involved with ten clubs, five jobs, and three sports teams (or something like that).
A person I know quite well, when she was in college, used to study until 10 p.m. or so, then go to bed and sleep for 4 hours. Next, she'd wake up and study from 2 to 4 a.m., before grabbing a few more hours of sleep before her first class. Wise? Probably not, but I can certainly understand the motivation to find extra time to study amidst the other demands of college.
One of my colleagues at Concordia, Anne Mocko, has the crazy-wonderful idea of a regular campus-wide Sabbath. It would start monthly, but perhaps transition to weekly. During such a designated day, from sun-up to sun-down students would be invited to refrain from the activities that normally consume them, including sports, music rehearsals, homework, work, even driving, etc.
The campus plant would mirror our students' rest, so we would conserve energy by providing only simple meals in the cafeteria, keep as many lights off as possible, and generally limit consumption.
But what would students do, you wonder? Connect with one another. Have deep conversations. Read for pleasure. Go for a walk. Make art. Sustain life by slowing down.
Could such an idea every actually be put into practice? Not easily but, yes. Of course. And at a college the size of Concordia it'd be relatively straightforward.
As I recall, the theologian Marva Dawn notes that she always took a full Sabbath even while in graduate school writing her dissertation. Sure, she's one of the smartest people I've ever met, but what if those faithful smarts also worked out a wise way to approach intensive study?
I admit that in recent years I've not regularly practiced a break from work. I do a fairly good job of not working after 6 p.m. on Fridays, but that's about it. I'm not quite a workaholic, but I'm too close for comfort. On Saturdays, I'm usually working for my PhD program. On Sundays, I prep for teaching Monday and write papers for grad school. Living apart from Megan doesn't help—I replace the time we'd be hanging out with work.
Ultimately, I'm curious how college faculty and administrators might encourage a reasonable work/life balance for students because I'm very much still searching to find my own. I've considered not having any papers due on Mondays so students have weekends more free. I've considered cutting back on reading assignments. I've considered (and implemented) assigning very little work over school breaks. But, it's very much a live question for me.
I'm also aware that all this pondering occurs in a time where studies have shown a significant decline in how much students study, with recent survey data showing today's average student spends 15 hours per week working outside of class. That's not per class but in total!  Surely, my college is different. Surely, there's a better way.