For years I've longed for a true artists' pub in Fargo. I'm not picky, but such a pub should include at a majority of the following: Scrabble, PBR tallboys, trivia nights, stuffed owls, plenteous references to literature, a modicum of televisions, free popcorn and/or pretzels with the order of any drink, dirty floors, clean bathrooms, wireless internet, Trivial Pursuit, Guinness on tap, at least three quality Scotch Whiskeys, an outdoor seating area, moderately poor service, occasion live music, and, of course, drink discounts for grad students and professors (and upcharges for undergraduates). I don't ask for much.
So, when I was assigned to accomplish several "mini challenges" for a grad school course on the rhetoric of creativity, my eye landed on the option to "take an 'Artist's Date' to a spot that engenders inspiration twice in a week…" I went searching for that Artists' Pub of my dreams.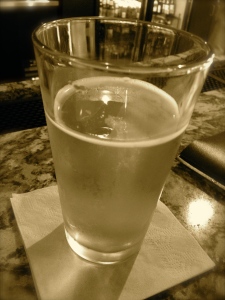 For the project, I visited two new bars in the Loretta Building, a gorgeous, newly renovated multi-use building at the center of downtown Fargo. My experience was, shall we say, mixed.
At the handsomely appointed Boiler Room, I sat at the bar and ordered a pint of Farmer's Daughter blonde ale from the Lucette Brewing Company. Since nobody else in sight was working on a laptop, I decided to keep my computer in my bag. Father than writing a blog post on my laptop—my most common creative activity—I proceeded to jot some thoughts on my trusty Levenger folio with real, dead-tree paper. It was a semi-creative spot for me, but not the stuff of dreams.
The next day I journeyed next door to D'Vine, a wine bar established, as their logo prominently claims, in 2014. I enjoyed friendly service, but then, right before I pulled out my iPad mini, I found this on the menu:
Part of our design we chose to exclude televisions to revive the beauty of interaction, conversation and to minimize distractions of modern technologies. We also ask that the use of cell phones be limited to texting only. Our space is so small that either of these would distract from the environment we have so meticulously prepared for you. If you need to use your phone we ask that you go outside to do so. Thank you for joining us today…
Talk about squelching my creative spirit! The menu note did not mention tweeting, so I immediately opened Twitter on my phone—half wondering if the barman would check if I was using it for "texting only." Thankfully, I didn't get kicked out, but I didn't stay for long either. Unsurprisingly, there was no wifi.
I appreciate the goals of a wine bar prioritizing conviviality over obnoxious cell phone chats, but has (Fargo) culture really reached the point that we must specify how cell phones must be used? Have we become so numb to surveillance tactics that we accept courtesy control from restaurant managers?
In my short search, I did not find a true Fargo artists' pub. I'm still looking for a place where I wouldn't feel out of place grading papers on my laptop accompanied by tall Fargo Brewing Company O'Fest. We have some fairly respectable coffee shops in town, locations that certainly inspire creativity for me, but we don't yet have anything bordering on an artists' pub. (Not that we're lacking some great bars. My favs include JL Beers, Rhombus Guys, the HoDo, and Mezzaluna.)
Now, I find myself at home, finishing this post with a self-poured bourbon. It looks like, for the time being, I'll be supplying my own creative spirits.